Australia Is Confident Despite Abbott's World Cup Selection Misgivings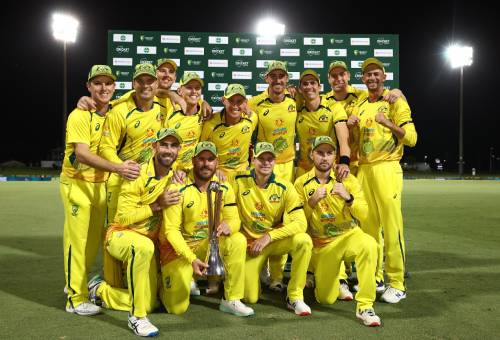 Australia announced a tentative 15-player roster with no surprises, and they are sure that Pat Cummins, Steven Smith, Mitchell Starc, and Glenn Maxwell will be ready for the ODI World Cup.
Sean Abbott defeated Nathan Ellis' bid to secure a spot among the pace bowlers in one of the few contestable slots. In addition to being a backup wicketkeeper, Josh Inglis is also a backup batsman. Up until September 28, the squad can be changed without ICC clearance.
Ellis, Aaron Hardie, and Tanveer Sangha were the only three players from the initial 18-player group chosen for the South Africa and India tours earlier this month who did not make the final roster. Spencer Johnson, Marnus Labuschagne, and Tim David are also presently in South Africa with the ODI team.
Due to many injuries to first-choice players, Australia's World Cup preparations have grown rather disorganized. While Starc has been sidelined with a groin issue, Cummins and Smith both sustained wrist ailments during the Ashes that prevented them from participating in the ODI series in South Africa.
While this was going on, Maxwell, who was always going to miss the South Africa one-dayers due to the birth of his first kid, left early after experiencing ankle pain and would probably be closely monitored in the run-up to the World Cup.
National selector George Bailey stated that "all are well positioned to return online in the upcoming weeks and possibly for selection in the upcoming series against India." Before the final squad is to be announced, eight one-day matches in South Africa and India must still be played. Two World Cup exhibition matches follow, providing ample of opportunities to continue the tournament buildup.
Legspinner Sangha has drawn attention in recent days after performing in the T20I series against South Africa, when he was called up at the last minute to make his debut due to Adam Zampa's illness. However, Zampa and Ashton Agar, along with Maxwell and Travis Head, have been chosen as the squad's two frontline spinners.
Who bats first is one of the crucial choices the selectors will have to make in the upcoming weeks. Mitchell Marsh has a compelling argument to be kept at the top of the order based on his T20 success and his showings against India in March, while Travis Head has been productive since making a comeback to ODIs.
Warner missed the first two games of the India series earlier this year, and upon his comeback, Head and Marsh took the first two spots, placing Warner at No. 4. Smith is most likely to remain in position three.
Australia will play India in their World Cup opener on October 8 in Chennai.
Australia's World Cup ODI team Sean Abbott, Josh Hazlewood, Travis Head, Josh Inglis, Mitchell Marsh, Glenn Maxwell, Steven Smith, Mitchell Starc, Marcus Stoinis, David Warner, Adam Zampa, Ashton Agar, Alex Carey, Cameron Green,