Alabama meets with a candidate for the position of offensive coordinator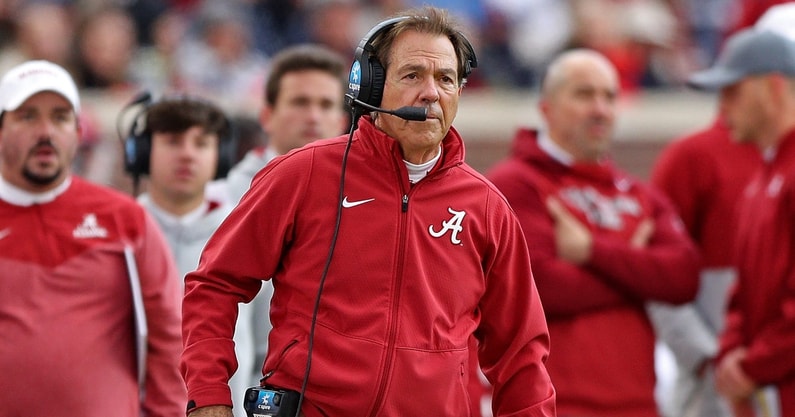 According to multiple reports, including 247 Sports, Alabama held a meeting on Monday with Washington offensive coordinator Ryan Grubb as a potential candidate for the Tide's play-calling position.
Grubb, 47, led the Huskies' offense last season while also coaching its quarterbacks. The Iowa native has never coached in the SEC and has no direct ties to Saban or his coaching tree. He has coached at the FBS level since 2014.
According to the Seattle Times, Washington increased Grubb's salary twice late in 2022, the most recent of which occurred in December and would pay him $2 million annually through 2025. That made Grubb one of the highest-paid assistant coaches in college football, surpassing Bill O'Brien, who made $1.1 million for Alabama the past two seasons.
Before Texas A&M hired Bobby Petrino as offensive coordinator at the beginning of January, the Houston Chronicle said that Grubb was a possibility.
During Grubb's first season in 2022, Washington's offense was one of the best in the nation. This past season, it ranked second among FBS teams with an average of 515.8 yards per game, behind only Tennessee, after finishing among the nation's worst teams in 2021. It was seventh with 39.7 points per game, behind Alabama and other teams with 41.1 points per game.
Michael Penix Jr., a transfer from Indiana, was Washington's quarterback in the 2022 season. He finished eighth in Heisman Trophy voting and led the nation in passing yards per game (357.0).
The Huskies had the nation's highest passing yards per game (369.8) and third-down conversion rate (56.8%), and they had the fewest turnovers among FBS teams (tied for ninth place). With 146.0 rushing yards per game, they ranked 69th.
Grubb joined Fresno State from Fresno State, where he served in a variety of capacities from 2017 to 21. Kalen DeBoer was the Huskies' first-year head coach. He started out as the Bulldogs' offensive line coach and coordinator of the run game. Later, he became their offensive coordinator and coached quarterbacks.
Grubb also worked with DeBoer at the University of Sioux Falls in South Dakota and coached Eastern Michigan's offensive line from 2014 to 2016 when DeBoer was EMU's offensive coordinator.
"He's a great offensive mind," DeBoer said in September of Grubb, according to the Seattle Times. "Especially the last eight years, we built the offense together. He's been very involved. Yes, he was the offensive line coach prior to being the coordinator. But he knew he wanted to be a coordinator, so he was always paying attention, asking questions and we were developing our system together."
From 2007 to 2009, Grubb led Sioux Falls' offensive line and served as the team's offensive coordinator as it transitioned from NAIA to NCAA Division II. He worked as an assistant for South Dakota State in 2005-2006 and played for Iowa's Buena Vista University, a Division III school.
After O'Brien, whose contract was about to expire, was hired by the New England Patriots in the same position, Alabama is looking for its sixth offensive coordinator in the past eight seasons.