Volvo introduces the cost-effective EX30 electric SUV in an effort to compete with Tesla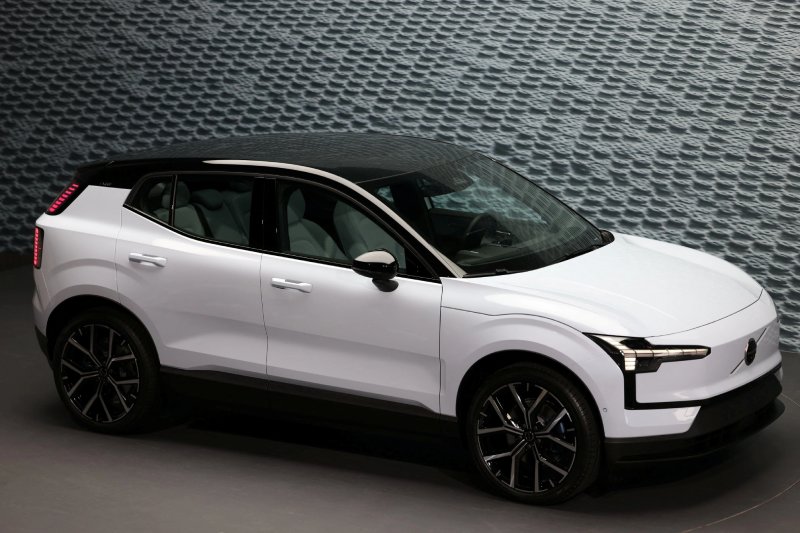 Volvo launched its EX30 completely electric little SUV on Wednesday with two battery options and a beginning cost of around $38,500, as carmakers rival Tesla to make electric vehicles more reasonable.
The Swedish manufacturer's smallest SUV to date is the EX30, which comes after the larger electric EX90 was unveiled in November.
During the car's launch event in Milan, Italy, CEO Jim Rowan stated, "It's a small SUV doing Volvo things."
The lowest-priced vehicle produced by Tesla in the United States, the Model 3, starts at approximately $42,000. This year, Tesla has reduced prices a number of times in an effort to increase demand given the intense competition among EV manufacturers.
However, Rowan stated that the group did not need to follow Tesla's lead when it came to price cuts for electric vehicles because there was sufficient demand.
The EX30 is one of Volvo's biggest business opportunities in the coming years, according to the company, which wants to sell only electric vehicles by 2030 and have half of its sales be EVs by the middle of the decade.
"Customers get a premium fully electric SUV for a similar price to combustion engine-powered equivalents," the group said.
The EX30 will be manufactured in China at the Zhangjiakou plant, which is run by Geely, Volvo's controlling shareholder. Production is scheduled to begin later in 2023.
The new model will be available to order starting on Wednesday in some markets, including Europe, and the first customers can anticipate delivery in early 2024.
As a result, the vehicle will be delivered prior to the company's larger EV SUV, the EX90, which it introduced in November of last year.
Due to delays in production, the EX90 will begin production in the first half of 2024.
According to Volvo, the automaker will offer two battery types. The cheaper and less resource-intensive 51 KWh LFP (lithium iron phosphate) batteries have a range of up to 213 miles and are intended for drivers who primarily travel within cities or over shorter distances. This helps keep the price of the car affordable.
Customers of the EX30 will be able to enjoy a longer range of up to 300 miles thanks to more effective 69 KWh NMC (nickel manganese cobalt) batteries.
The new model will cost approximately $55,000 in its most expensive form.
Based on preliminary data from two markets, Volvo claimed that the EX30's total cost of ownership was lower than that of any of its fully electric vehicles and the majority of its rivals in the electric, small SUV market.
At the moment, electric SUVs made by premium European brands like BMW, Mercedes, and Audi cost at least $59,000.
The EX30's entrance cost is equivalent to that of the EV adaptation of Jeep's Justice fighter little SUV.