Novozymes OneHealth Presents "One in a Trillion" Health Solution from Denmark on the 5th CIIE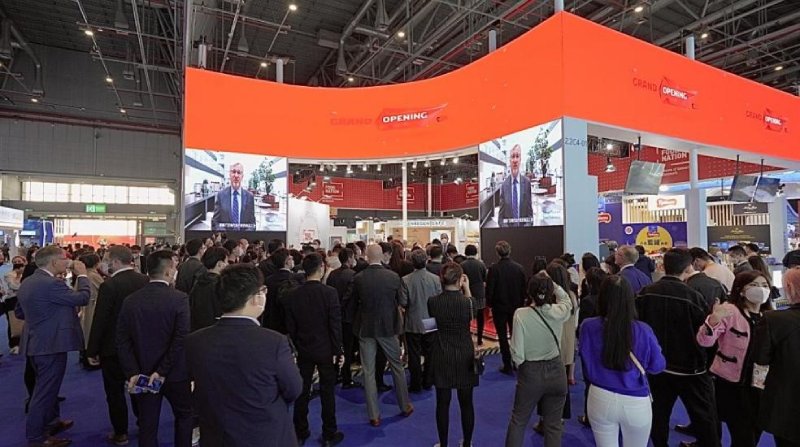 The 5th China International Import Expo (CIIE) opened on November 5 at the National Exhibition and Convention Center in Shanghai, amid much expectation from the industry and society. The 6-day CIIE will end on November 10.
As a leading biotech company from Denmark, Novozymes OneHealth attended the CIIE, setting its exhibition stand in the Danish Pavillion. Danish biotechnology is world-leading, giving advantages to its biotech industrial clusters. Building on that and through continuous exploration and innovation, Novozymes OneHealth has achieved sustained growth, providing various advanced products and solutions to the world, and contributing to the development of China's health industry over the years.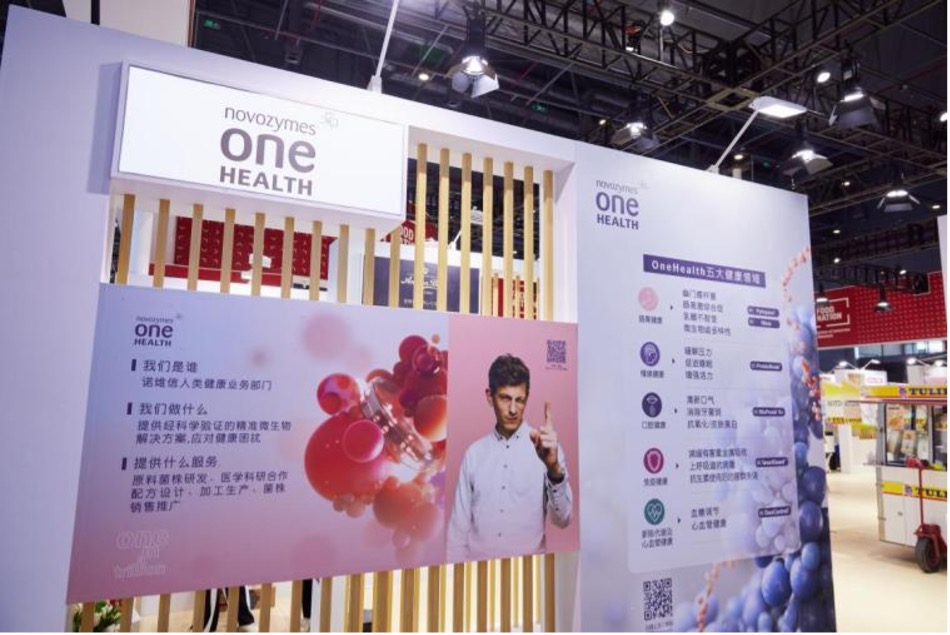 source:OneHealth
Danish Ambassador visits and praises Novozymes stand
At the opening ceremony of the Danish Pavillion on November 6th, Novozymes OneHealth and many other Danish companies together presented a vivid image of Denmark.
On the afternoon of November 8, Danish Ambassador visited the exhibition stand again and had an in-depth discussion with Cheng Xi'an, General Manager of Novozymes OneHealth China. The Ambassador praised Novozymes OneHealth for its technological leadership and product value in the field of biotech and expressed pride in this world-class Danish company. The Ambassador also highlighted the huge potential of the Chinese market under the background of the Healthy China 2030 initiative and showed interest in Novozymes OneHealth's future plan for the Chinese market.
To that, General Manager Cheng Xi'an answered, Novozymes OneHealth has been in the Chinese market for 5 years, established deep cooperation with leading domestic and foreign companies in product innovation and R&D in the Chinese market, and laid a solid foundation of brand recognition and reputation. In the future, Novozymes OneHealth will continue to localize, with improving productivity in China as the target and deepening local brand synergy as the mission. It will explore scientifically proven biotech solutions to help Chinese consumers deal with health challenges brought about by modern lifestyles, such as intestinal discomfort, H. pylori infection, heavy metal accumulation in the body, poor oral health, and poor sleep quality, with natural and safe products.
Grab attention with tech innovation and true strength
During the exhibition, Cheng Xi'an, General Manager of Novozymes OneHealth China, spoke to CCTV News and introduced the brand's background and product innovations to the audience watching the livestreaming: "Novozymes is one of the world's top biotech companies, providing enzyme and probiotic products for 30+ industries. Denmark leads the world in probiotics and Novozymes is one of its most well-known companies. Years of research in this area has yielded many mature products for digestive health, mental health, immune system care, metabolic care, and oral health."
Grasp the blue ocean market and find green biotech solutions
General Manager Cheng Xi'an also accepted an interview with Tencent News, a media outlet from the Internet leader company. During the interview, he introduced the human health business, Novozymes OneHealth's focus of the CIIE, with new technologies and products. He also answered the most asked question about Novozymes OneHealth's strategic layout and future plans in China. He shared that it forged cooperation with Jiangnan University in bacterial strain research this year, which has made remarkable progress so far. Clinical trials began this year in China, in the hope of getting closer to Chinese consumers' needs with localized research data and experience, and accelerating the localization of the entire industrial chain, covering research and development, production, marketing and sales.
At the end of the interview, he talked about corporate responsibility as Novozymes is one of typical companies responding to the United Nations Sustainable Development Goals, and mentioned that at this year's Davos Forum, Ester Baiget, President and CEO of Novozymes, presented its carbon capture technology for combating climate change and bioprotein technology for food security, both of which were praised and recognized by experts from various countries. Since China formulated the goal of "double carbon emission", biotechnology has received more and more attention from the government and enterprises, because it is highly efficient, clean, moderate and environmentally friendly, and is a blueprint for the future development of human society. To this end, Novozymes China published a white paper in May titled "Novozymes to help China achieve its dual carbon goals," which explores how biotechnology can help improve the quality and efficiency of traditional industries, improve the energy mix in transportation, recycle agricultural and kitchen waste more efficiently, ensure food and nutrition safety, and reduce the use of chemicals in household cleaning products. In addition, Novozymes is using a new generation of protein technologies to continually find new food sources, and is exploring biotechnology options to reduce the energy and cost of carbon capture. Cheng also said that the company will continue to pursue the concept of green development, fully support the promotion of carbon neutrality in China, actively explore the unlimited potential of biotechnology in the field of negative carbon technology while reducing greenhouse gas emissions generated in the operation of enterprises, unleash the new driving force of growth with biotechnology, and join hands with partners to build a healthy future and jointly find green biological solutions for China and the world!
Speaking of the CIIE, Novozymes OneHealth said that its advantages in international procurement, investment promotion, cultural exchange, and open cooperation enhance the brand recognition of Novozymes OneHealth in China. Moving forward, incentivized by Chinese national policies and guided by the government, Novozymes OneHealth will brave more challenges and shoulder the responsibility of rethinking human health, to explore human intestinal, brain, and metabolic systems and with cutting-edge technology and rich resources, find the "One in a Trillion・Safeguard Health" precise biotech solution to meet health challenges.
The CIIE is part of China's efforts to build an open world economy and support economic globalization and practice the concept of a community of shared future for mankind and the Global Development Initiative. Novozymes OneHealth will act in accordance with the national health blueprint outlined in China's 14th Five-Year Plan and contribute to the Healthy China 2030 initiative, and follow the sustainable development philosophy. It will strive to apply cutting-edge biotechnology, automation and digital technology in all aspects of development, production and optimization, collaborate with customers, partners and the global community to improve industrial efficiency while preserving global resources, to build a better and healthier life.
For more information on Novozymes OneHealth, please search "Novozymes OneHealth" in WeChat to follow the official account, look up the product guide, or contact our customer service.