Miami QB Garcia enters the transfer portal with three eligible seasons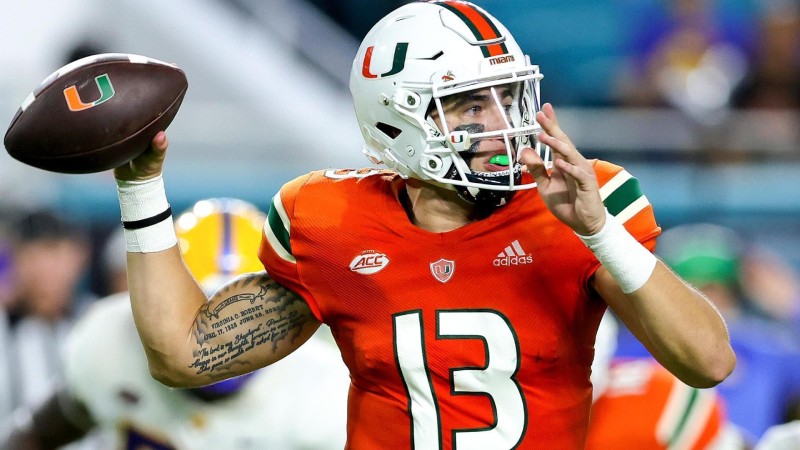 On Tuesday night, Miami quarterback Jake Garcia entered the NCAA transfer portal in its entirety. He told the Hurricanes coaching staff about his plans earlier in the day, and he decided to enter the portal one day before the deadline.
Garcia was one of the Class of 2021's Top 25 recruits. He had originally committed to USC, but in December 2020, he switched to Miami. Since he redshirted his freshman year, he is immediately eligible for his next school and will have three seasons of eligibility there.
Garcia wants to enroll right away and play spring ball to learn a system and compete for the starting job, according to a source.
The portal only allows for entry, so athletes can decide at any time as long as they are in by Wednesday.
This season, Garcia started one game for the Hurricanes, a 14-12 victory over Virginia after four overtimes. In that game, Garcia went 15-for-31 for 125 yards. He threw for five touchdowns and four interceptions in eight games, completing 59.1% of his passes for the season.
In 2021, his first season on campus, he only participated in one game, throwing for two touchdowns in a 69-0 victory over Central Connecticut State.
Garcia went to five high schools in four years, making his career an odyssey. His career included a stop at Long Beach Poly in his home state of California, where he backed up Matt Corral, a future star at Ole Miss. He went on to Narbonne High School in California, where he was a star for two years before finishing his career in Georgia so that he could play his senior season in 2020, the COVID-19-altered season.