Reds' Elly De La Cruz Homers After Nats Request That Umpires Really Take A Look At Bat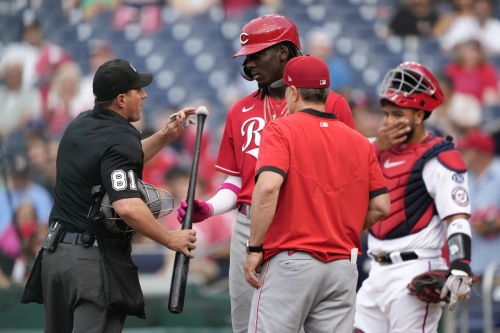 After the Nats ask the umpires to check the bat, Reds rookie Elly De La Cruz hits a home run. As the ball flew into the night sky, Elly De La Cruz turned to the home-plate umpire. He desired to express himself.
On Wednesday night, De La Cruz hit a 455-foot home run against Washington and then made a reference to the umpires who forced him to remove a plastic sensor covering from the end of his bat.
De La Cruz explained the gesture's meaning, "Just to tell everybody that the knob is not the reason why I am doing a good job." This is a direct result of basically everything I'm putting out there."
De La Cruz proceeded to add two copies and a pursue scored the homer as the Reds dominated the match 9-2 to make it three in succession against the Nationals.
On the knob of his bat, De La Cruz, one of the best rookies in the majors and the driving force behind Cincinnati's rise to the top of its division, had an empty sensor cover. However, after Nationals manager Dave Martinez questioned its use prior to De La Cruz's second-inning bat, it was removed.
Umpires assessed the legitimateness of the handle cover with the association office and informed De La Cruz he was permitted to return it on his bat for his second at-bat in the third.
De La Cruz, speaking through an interpreter, stated, "It's something that we use in spring training." It's simply a sensor that we use, however the plastic covers the bat. Other than that, there is nothing else. In 2021, I started using it. I asked for more of those plastic shells from that point on because it just felt more at ease using that.
Adrian Johnson, the crew chief, said that Martinez told the umpires about the knob cover after the game. Johnson stated that they inquired with the league office, but they did not receive a response for some time.
He stated, "We had to continue to play, in order to keep the game going." Before his subsequent at-bat, they finally responded to us and informed us that the attachment had been approved. As a result, he used the bat attachment for the remainder of the game."
De La Cruz started the fifth with a deep drive to right-center against Josiah Gray after flying out to left in the previous game. Before going around the bases, he then made a point at the end of his bat.