ESA's Planetary Safeguard Mission: Hera Space Rock Space Apparatus Is Finished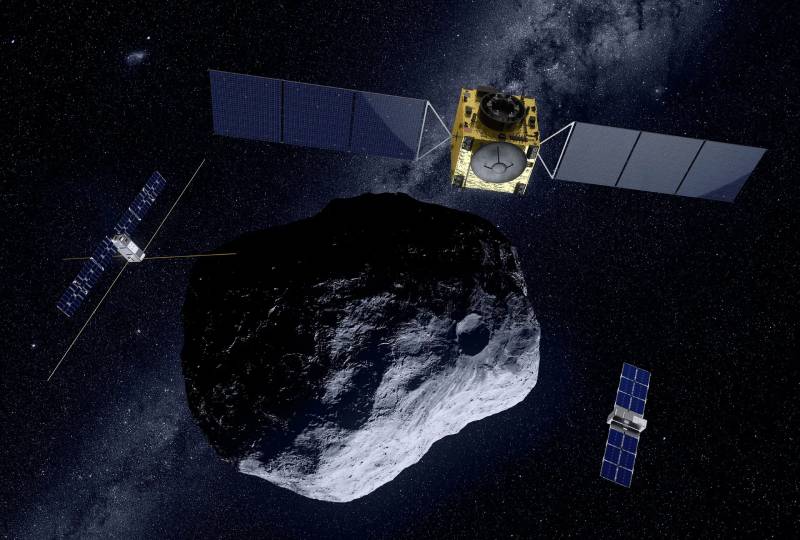 ESA's space rock safeguard mission, Hera, has been effectively gathered at OHB Bremen in Germany.
Hera is finished. ESA's space rock mission for planetary protection was fabricated and ready in two parts, yet presently, through a meticulous activity, they have been mated together to make a solitary shuttle, prepared for full-scale testing of its preparation for space.
The mating occurred at OHB Bremen in Germany, with Hera's Center Module raised multiple m over its Drive Module and afterward continuously and painstakingly opened into place, north of a three-hour time frame. The modules were encased in cages to guarantee that they were aligned precisely to within a few tenths of a millimeter of one another.
"The mission continues to hit achievements the present moment, however this is a major one, and an extremely profound second for the group," makes sense of Paolo Martino, Hera framework engineer. " We used to have these two modules, but now the spacecraft is complete.
Hera is Europe's commitment to a worldwide planetary guard try. Following the DART mission's contact with the Dimorphos space rock last year - changing its circle and sending a tuft of trash large number of kilometers out into space - Hera will get back to Dimorphos to play out a nearby overview of the cavity left by DART. The mission will likewise quantify Dimorphos' mass and make-up, alongside that of the bigger Didymos space rock that Dimorphos circles around.
To make its meeting with Dimorphos Hera needs to take off in October 2024. So to expand working time the mission was built by prime project worker OHB as two separate modules, which could be dealt with in equal.
Hera's Drive Module consolidates its charge tanks - housed inside a focal titanium chamber, the 'foundation' of the rocket - alongside funneling and engines, which will have the occupation of pulling the mission across profound space for over two years, then to move around Dimorphos and Didymos.
In the mean time, Hera's Center Module can be considered the minds of the mission, facilitating its locally available PC, mission frameworks, and instruments.
Made together, the Center Module stayed at OHB while the Drive Module headed out to Avio close to Rome in Italy for the expansion of its impetus framework. After that, the two of them got back together in Bremen to get ready for the mating.
"A comparable twofold module process is frequently utilized for telecom missions, however those are typically normalized plans," adds Paolo. " This is whenever it first has been applied to a profound space mission, on a substantially more impromptu premise."
OHB's assembly, integration, and testing team was still checking alignment as the crane lowered the Core Module each step of the way, despite the fact that the mating had been thoroughly simulated in advance using CAD software. The cleanroom entryway was kept fixed during the mating to forestall any interruptions.
Matteo Grimaldi, a senior assembly, integration, and testing technician at OHB, explains, "We studied a lot together with our designers on which were the most critical parts of the process, so most of them were already taken into account."
The mating process was complete when the top deck of the Core Module and the Propulsion Module's cylinder's tip met. Then, at that point, an underlying test bolt was embedded to check the arrangement was completely right ahead of the two modules being completely darted together.
"The two modules are currently together always, as they will be in space, excepting any major startling issue," makes sense of Paolo.
We can still access internal units through side panels if necessary. Then, we will add some payload units to the rocket's top deck which we are getting straightforwardly from the producers once Hera moves to its next stop.
"That is at the end of this month, when Hera is transported to the ESTEC Test Centre in the Netherlands, where it will undergo a comprehensive environmental test campaign to determine its readiness for flight."