Morgan Wallen Gave The PNC Park Audience What They Wanted Despite The Fact That It Didn't Budge The Needle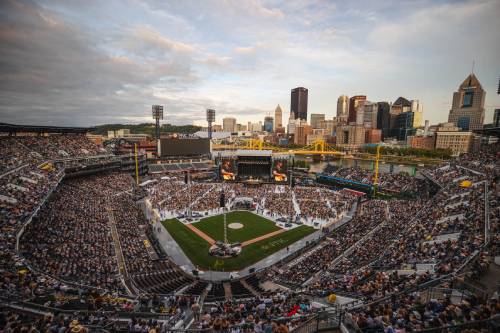 It was one huge Morgan Wallen love fest for premiere night of the nation star's two-night appearance at an almost sold-out PNC Park.
After his band got presented baseball-commentator style, Wallen rose to the stage from a secret entrance and continued to convey a high energy execution, investing quite a bit of his time in the rectangular region that extended into the group.
In tanish yellow jeans, a yellowy-beige ballcap and long-sleeved white shirt, the 30-year-old Tennessean sent off with the chipper "Up Down," laying out early that he wanted to make a ton of crowd eye to eye connection, frequently squatting while he sang to draw nearer to the group.
His voice sounded fine − not what you'd call surprising however giving no clear indications of the vocal rope strain he refered to for deferring a month and a half of shows in May and June, including his two unique PNC Park dates.
Likewise, his band sounded strong however without any trace of champion minutes. They gave the right proportion of playful pop to "Each Thing In turn," the hit title track to his Walk collection; furthermore, supported a snappy, thick score to "All that I Love."
Wallen kept his banter simple, mentioning a show he did years ago at Marshall Township's Jergel's Rhythm Grille and acknowledging that a Pittsburgh Pirates stadium audience might not like his song "'98 Braves."
Many people in the crowd were sporting Atlanta Braves-patterned Wallen jerseys that they had purchased from a merch table as they yelled "'98 Braves" loudly.
As a fog of downpour fell, and mists clouded that uncommon Very Blue Moon, Wallen moved ahead unhesitatingly, with male and female fans the same chiming in noisily with "Still Goin Down" and "Sand in My Boots."
As Wallen sang his well known front of Jason Isbell's own and strong "Cover Me," fans illuminated the arena agreeably with their cellphones.
For "Cowgirls," 66% through the 60 minutes 50-minute set, Wallen invited in front of an audience as visitor co-performer Ernest, the uniquely named down home craftsman accountable for opening Thursday night's show.
Flares and pyro occasionally shot up from the stage. A tune title put on the enormous video screens superfluously let everybody know when Wallen was singing "This Bar."
Dissimilar to this late spring's Taylor Quick, Ed Sheeran and P!nk shows, this arena show didn't move the needle with stunts, ideas or ability. It was night basically for fans to snap selfies and reels as they chimed in happily with melodies they knew inside and out.
Changing to a Privateers pullover for the reprise, Wallen set up "The previous evening" by encouraging fans to dig much more profound and sing considerably stronger to commend the most-streamed tune of the year, which set a record this month following four months at No. Number one on the Billboard Hot 100.
The show started with Wyoming artist Ian Munsick who had an intriguing, higher arriving at vocal tone. Munsick provided the earworm "Rancher Executioner" and gave a whoop to the '80s, '90s and '00s infants in the group with a mixture of tender loving care's "No Cleans," Britney Lances' "Harmful" and Fate's Youngster's "Say My Name." He stated that he wished that country music featured more fiddle than his band does.
Bailey Zimmerman took the field next, bringing a floppy-haired exuberance and likable raw energy.
Bailey Zimmerman at PNC Park.
The 23-year-old performer concluded his set with an inspirational account of how, just two years ago, he was still earning a living by installing gas pipelines, including work in Pennsylvania. However, after praying and relying on faith, he began recording music and is now playing stadiums in a short amount of time. "Tell 'em Bailey Zimmerman did," he advised newly acquired fans, "the next time someone tells them they can't achieve a lofty dream."
The fundamental help act, Parker McCollum, brought the night's most grounded, most cleaned voice, with a serious methodology highlighting a George Waterway impact.
The long-legged Texan has also mentioned Townes Van Zandt, James McMurtry, and John Mayer in interviews. Perhaps this will become even more evident when McCollum performs a full set on September 16 at the UPMC Events Center in Moon Township. Would be smart for him to move around the stage more, as well.