Musk draws heat from San Francisco over monster X logo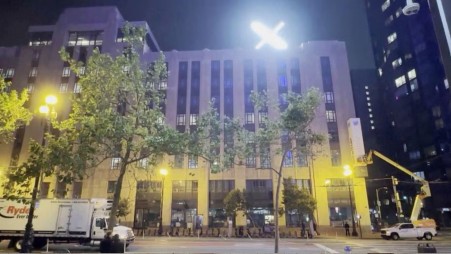 A monster, shining X denotes the San Francisco place where Elon Musk says he intends to stay with his, the informing stage X, previously known as Twitter. However, some residents and city officials are dissatisfied with the display.
The business put an "X" logo on the roof of its Market Street headquarters on Friday, much to the dismay of neighbors who complained about the intrusive lights and the Department of Building Inspection in San Francisco, which said it was looking into the structure.
The move followed a post from Musk, the baffling tycoon who gained the organization in October for $44 billion, declaring the recently named firm would stay in San Francisco regardless of what he named the city's new "destruction twisting, with an endless flow of organizations left or leaving."
Musk, who likewise is President of electric vehicle producer Tesla (NASDAQ: TSLA), moved that organization's base camp from California to Texas in 2021. Keeping X in San Francisco could be a decent sign for a city that has battled to quickly return from the travel industry and business misfortunes supported during the pandemic.
The departure of major retailers, reduced tourism, and layoffs in the tech industry are putting pressure on the city's downtown area. Traffic has fallen as additional individuals telecommute, while high-profile wrongdoing and vagrancy have harmed the city's appearance.
Musk wrote, "Beautiful San Francisco, even though others leave you, we will always be your friend."
However not all San Franciscans are sharp for Musk's companionship. Over the weekend, locals took video of the enormous X glowing, pulsing, and strobing, and some people were critical of the lights' intrusiveness.
X client @itsmefrenchy123 said they would be "Incensed" over the splendid logo, envisioning it "right opposite your room."
@DollyMarlowe, an X user, wrote, "I'm just astounded at the flagrant lack of consideration for anyone ever."
In the meantime, the Department of Building Inspection in San Francisco began an investigation into the structure, claiming that it may have broken permitting regulations.
A BID controller said in a composed report that organization delegates denied rooftop access, two times, to Offer authorities trying to review the logo. The inspector observed that a representative claimed that the sign was only temporary.