Sony and Honda will introduce their brand-new electric vehicle, the Afeela in 2026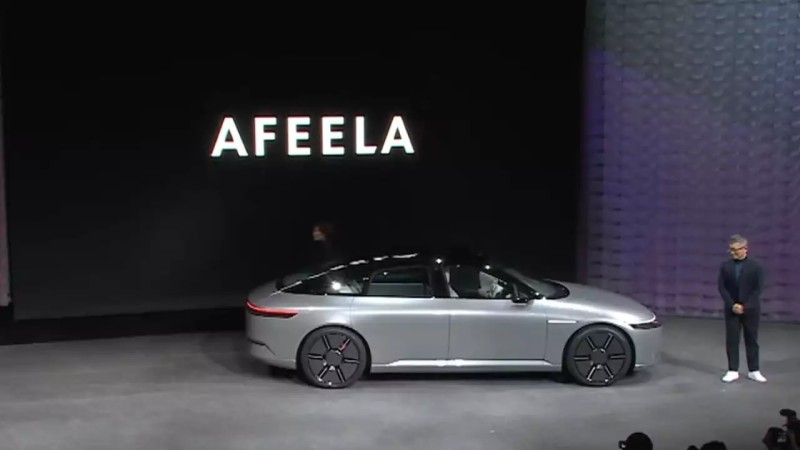 Sony has joined the EV conversation. With the announcement of a new electric vehicle brand called Afeela at CES in Las Vegas, the consumer electronics giant made its EV ambitions clear after a number of interesting electric vehicle prototypes over the past few years.
Technically, Sony Honda Mobility, a joint venture between the two Japanese companies, is the source of the new electric vehicle concept. They jointly unveiled the prototype of an attractive new electric sedan that they intend to sell in the United States by 2026. It will be part of a new brand called Afeela, but the name of the prototype's production version is still unknown. According to Afeela, deliveries in North America will begin in the spring of 2026 and orders will begin to be taken in 2025.
The prototype electric vehicle has a whopping 45 cameras and sensors inside and outside the vehicle, as you would expect from an electric vehicle that is being presented by the electronics giant. The Afeela concept is more than just a new way to think about EVs when paired with the ECU's maximum computing power of 800 TOPS. From Qualcomm Technologies' Snapdragon Digital Chassis for ADAS and telematics solutions to a partnership with Epic Games on the entertainment side, the EV incorporates entire suites of next-generation software.
The idea itself is a fairly common EV design with aerodynamic wheels and a low profile. Sony and Honda say that the EV concept is here to "create a new value standard for mobility." However, they don't want you to think of the car in terms of power and performance like you would normally. Instead, "software, networks, and user experiences" ought to be the focus here. Specifically, areas in which Sony has some experience.
Over-the-air updates are available for digital features in the concept, but Afeela's initial statements include the expected claims regarding autonomous driving and other connectivity features. Level 3 automated driving will be advertised "under limited conditions" with Level 2 driver assistance accessible in additional circumstances, including urban driving.
According to Sony, the EV will also be made available for partnerships with customers and "our automotive industry partners." The Snapdragon Digital Chassis system-on-a-chip from Qualcomm Technologies will serve as the technological foundation for this capability. Back on Earth, we can see that the simple interior of the Afeela concept was designed to "[wrap] occupants in a soft cocoon." The exterior of the concept uses a "Media Bar" to communicate with humans nearby.