Voghion Summer Mega Sale: Unleash Shopping Potential with Up to 90% Off and Exciting Special Events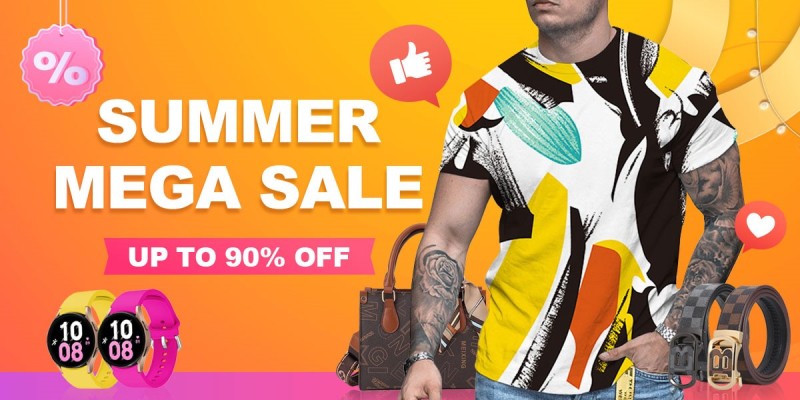 As the scorching summer heat draws near, it's time to gear up for the ultimate shopping experience. Get ready to explore a world of incredible discounts and captivating special events provided by Voghion, the leading online retail platform.
Voghion has established itself as a trusted name in the eCommerce industry, offering a diverse range of high quality products at competitive prices. Building upon its reputation, Voghion is delighted to present the highly anticipated Voghion Summer Mega Sale, sponsored by PayPal. This extraordinary event not only promises massive discounts but also features additional platform subsidies, making it an irresistible shopping extravaganza.
Prepare to be amazed as the entire Voghion inventory experiences unprecedented markdowns of up to 90% off. With such jaw dropping discounts, customers can indulge in their shopping desires like never before. Furthermore, with a tiered discount system,Voghion rewards all customers based on their total spending during the promotion. The more shoppers buy on time, the more significant savings they can benefit from. Spend 39 euros or more and receive a 5 euro discount, spend 79 euros or more and enjoy a 10 euro discount, or spend 149 euros or more to unlock an incredible 20 euro discount.
The Voghion Summer Mega Sale is not just about discounts; it's an immersive shopping experience. The event encompasses five major special event categories designed to cater to every shopper's preferences:
Summer Fiesta:
Embrace the summer vibe with a dazzling collection of fashionable clothing, outdoor sports gear, and sun kissed beauty products.
Hot Sellers Peak:
Discover the latest trends in footwear, delve into the world of cutting edge electronics, and enhance daily life with handy home appliances.
Enchanted Surprises:
Unleash inner fashionista as consumers explore an exquisite assortment of bags, jewelry, and stylish accessories that will make heads turn.
Explore and Discover:
Transform consumers'living space into a haven of comfort and style with curated selections for consumer's home. Consumers can find everything they need for their beloved pets, adorable babies, delightful toys, and even discover the perfect lingerie for that extra touch of confidence.
Ultimate Carnival:
Consumers can brace themselves for a grand celebration of savings! And consumers can also experience the thrill of discounts across all product categories, ensuring that no matter what they're looking for, they'll find unbeatable deals.
Ranked only second to the renowned Black Friday event, the Voghion Summer Mega Sale is poised to be an unparalleled shopping extravaganza. By collaborating directly with major brands and manufacturing factories, Voghion brings consumers the best quality products at astonishingly low prices. This commitment to excellence enables Voghion to pass on significant savings directly to its loyal customers.
The Voghion Summer Mega Sale will commence at the end of June and continue for approximately two weeks. Keep in mind that the availability of discounts and coupons is limited, so be sure to mark calendars and prepare to secure the best deals. Don't miss out on this exceptional opportunity to unlock incredible savings and indulge in the ultimate shopping experience at the Voghion Summer Mega Sale!