Superstar Gourmet Expert Robert Irvine Crowns 75th FA NCO As Top Cook In Culinary Confrontation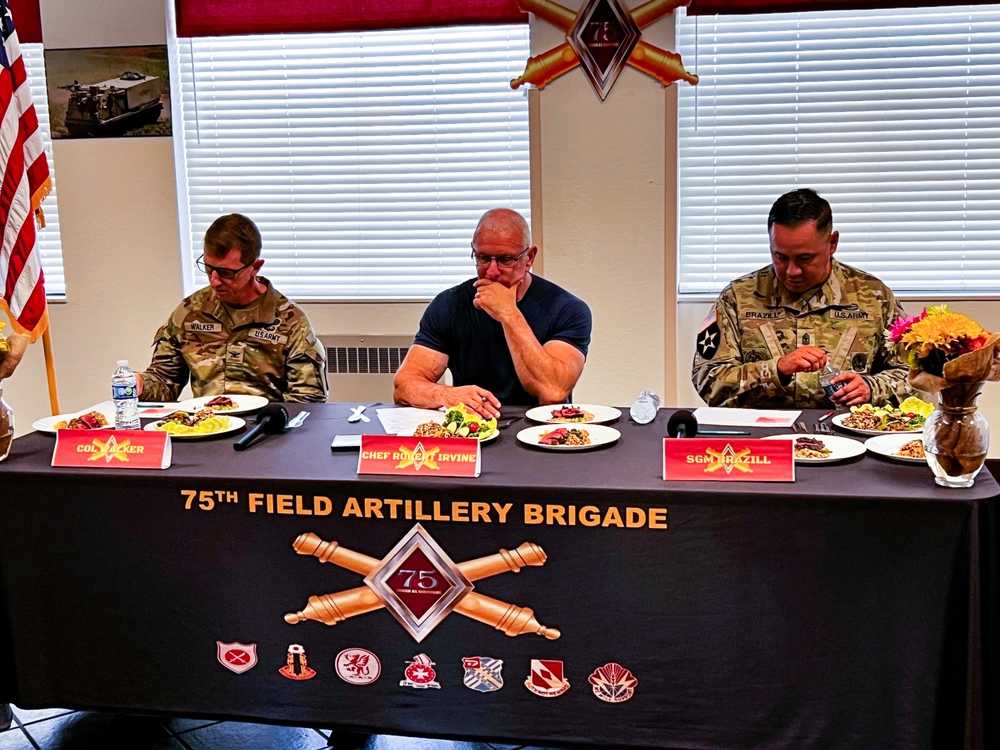 The sizzle of skillet, the smell of flavors, and the hustle of cooks filled the Weapons and Rockets Eating Office as the 75th Field Big guns Detachment facilitated a thrilling culinary rivalry.
The opposition, judged and facilitated by widely acclaimed gourmet expert and television character, Robert Irvine, saw three of Post Ledge's best culinary experts fight it out in the kitchen.
To make a tasty dish utilizing secret fixings inside a tight time period. The fixings, picked by Feasting Office Administrator Staff Sgt. Chakale Joseph, included buffalo, quinoa, figs, pre-cooked rice, new vegetables, and a plenty of flavors. Joseph made sense of her decision of buffalo, taking note of its importance in Oklahoma and its lean nature, which requires a deft touch to guarantee it stays delicate.
The contenders, Sgt. Mateo Valentine from New Jersey, Sgt. Romanei Williams from Jamaica, and Sgt. Panthamad Khempronna from Thailand were at first given 60 minutes. Be that as it may, in a sensational turn, Irvine, known for his appearances on shows like "Supper: Unimaginable" and "Iron Gourmet specialist," cut their opportunity to only 45 minutes. " 3, 2, 1, manages recently different," he declared, adding to the unmistakable pressure in the room.
As the clock ticked, the kitchen hummed with movement. Cameras rolled, catching each second for a live stream, while Joseph and Keith Pannell from the Public Undertakings Office gave editorial. Irvine, ever the charming host, drew in with the gourmet experts, offering experiences and once in a while bringing up areas of progress, particularly in regards to the buffalo planning.
"Haven't arrived to be great. I shouldn't be great. I should be basic," said Irvine. For what reason am I expected to be basic? Since as you censure someone in an extremely persuasive manner, they work harder, they improve and they begin to think more.
At the point when the time was up, the dishes were introduced to the adjudicators, which included Irvine, Sgt. Major Ryan Brazill, and Col. Stephen Walker, 75th Field Gunnery Unit officer. After a careful tasting meeting, Sgt. Williams arose triumphant with his dish of buffalo risotto matched with salted asparagus. The success was particularly sweet for Williams, who had as of late come in second in the Non-Authorized Official of the Month rivalry. " I pulled out all the stops and I'm happy I did," he commented, still in dismay over his success.
Williams, who fantasizes beginning a food truck after his administration, offered thanks for the opportunity for growth. He shared that Irvine's input on adding profundity and level to his plate show was priceless.
Col. Stephen Walker commended the endeavors of the multitude of members, underlining the significance of their day to day jobs in taking care of the fighters. " This is a novel encounter for them to find out more and have the option to exhibit their abilities to turn out to be better cooks in the Military," he said.
Irvine, who started his culinary excursion in the UK's Regal Naval force, communicated his profound association with administration individuals and pushing for greater imagination in military menus, he said, "I call food 'trust,' it constructs assurance."
The opposition not just displayed the culinary gifts inside the military yet in addition featured the significance of ceaseless learning and development. As Culinary specialist Irvine suitably put it, "anything is possible for you. Thus, in the event that you're contemplating what you don't have any idea, enlist in the military. They'll show you super quick and they'll show you a ton of initiative."